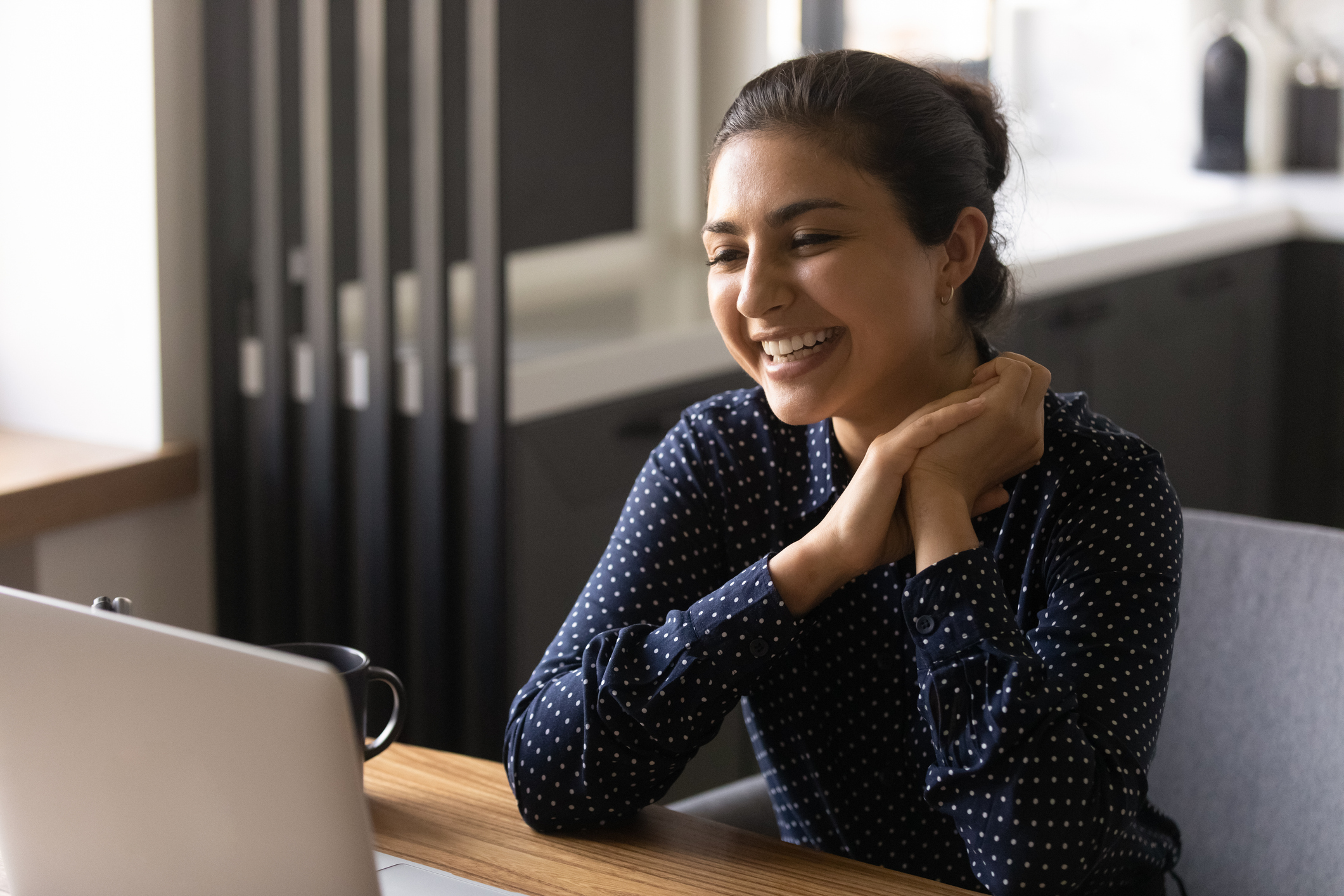 14 Mar

First Impressions: How to Prepare for a Virtual Interview

First impressions matter – more than you might think. Research shows that they happen fast – anywhere from seven seconds to less than a second. Just as important, studies reveal that around 68% of people believe their initial opinions of others are accurate. People tend to stick with their original assumptions even when they're later proven false. 

That means when you win that dream job interview, those first few moments make a world of difference. And with more and more meetings happening online, it's important to understand how to prepare for a virtual interview and make a great first impression – from anywhere!
The Truth Behind First Impressions
The majority of communication is non-verbal. First impressions are driven by all five senses, and, as mentioned, they seldom change with time. So, here are some things you should keep in mind for virtual interviews:
Research shows that dressing professionally implies that you are successful or on your way to success. 

Wearing practical shoes is better than wearing new.

Good posture and speaking faster imply competence. 

Making good eye contact conveys intelligence and trustworthiness. 

Mimicking the interviewer's body language

also demonstrates that you are trustworthy.
How to Prepare for a Virtual Interview
When the COVID-19 pandemic hit, the rise in hybrid and remote work options shifted into overdrive. Now, more than ever, initial interviews are conducted via phone or virtually. In fact, in-person meetings may not happen until a new employee is onboarded. That's why it's so important to know what to do and how to conduct yourself when you're not in the same room – or even the same state – as your interviewer:
Be prepared and

do your homework

.

Research the company with whom you'll be meeting, and compose questions you'd like to ask. If it applies, have your portfolio or examples of your work ready to share.

Make sure your technology is ready and working.

Be on time.

Greet your interviewer warmly. 

Show enthusiasm.

Focus.

Convey your value.

Share stories or show examples that demonstrate why you would be a great fit for the position and the organization.

Keep in touch post-interview.

Send a thank-you email within the first 24 hours that reiterates your top skills and your interest in the job. You can also include links to professional pages, like LinkedIn. Don't forget to check your spelling and grammar!
For virtual interviews, in particular, there are some in-person to-dos that you should keep in mind even though you're not meeting in the same room:
Dress professionally.

Virtual meetings may feel more casual, but you shouldn't dress casually. If you've done your homework, you should know the organization's dress code and go one step above that. Note: This is not just for first impressions; this is for your mindset. What you wear affects your mood and confidence – so dress how you want to feel.

Smile and make eye contact.

Remain visibly focused.

Pay careful attention to your surrounding environment. Reduce distractions. Make sure the area where the interview takes place is clean and quiet. 
For phone interviews, there are a few specific tips to remember:
Make sure you have a glass of water on hand. You don't want to get caught with a dry mouth or tickle in your throat in the middle of an interview.

Do not monopolize the conversation. Remember to listen, and do not interrupt the other person.

Phone conversations make it convenient to use a cheat sheet that helps you remember questions you'd like to ask, highlights you want to share, and relevant responsibilities from your past positions.
Last Tips About First Impressions and Virtual Interviews 
Whether you're meeting over the phone or online, don't try to be someone you're not. According to studies, 61% of people stated they believe they can spot a phony. So, be genuine. 
No matter the format or location, practice for your interview. This will help you become aware of how you sound on the phone, how you appear virtually, and you can also test-run your answers. 
Remember, while first impressions matter, so does being prepared for your interview. Check your boxes, cross your T's and dot your I's, and make your first impression count!
If you need assistance finding the career of your dreams, TalentFront has the resources and knowledge that help make the search journey easier. Contact us to get started today.